Outstanding features of Nestfresh ready-made fresh oats
The product line of ready-made oats contains more than 20 types of amino acids and micronutrients.
It is a necessary nutritional drink, also provides a full range of nutrients
Do not use thickeners extracted from seaweed such as: Calcium Lactate (E327), Sodium Alginate (E401) and Agar (E406) or natural gums (gum): Xanthan gum, latex Trom, snow nest, etc.
Do not use food additives Gellan gum (E418), artificial colors and synthetic bird's nest flavor.
Do not use the antioxidant Trisodium citrate (331iii), the preservative Sodium benzoate (E211).
Keeping the fresh taste, when drinking, you can feel the moderate softness of each bird's nest.
Because no thickener is used, when observing, you will see that the oats are concentrated on the bottom of the jar.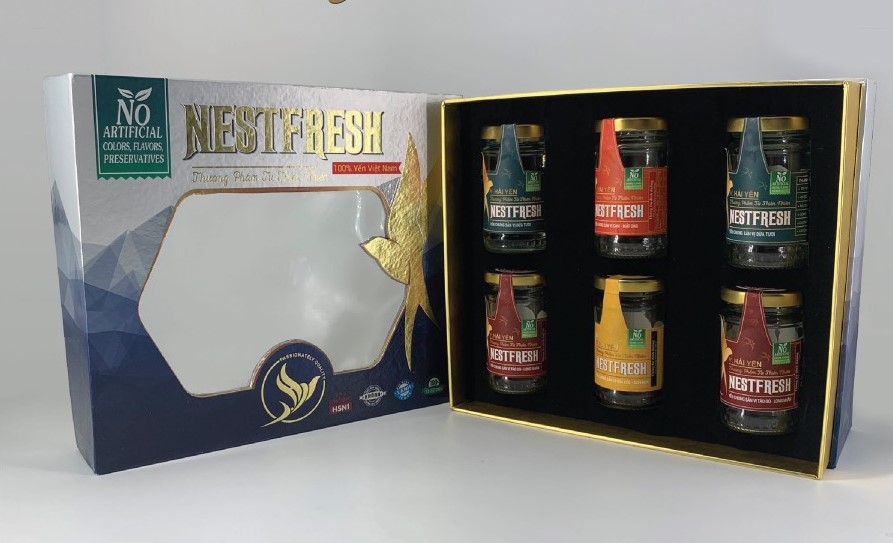 Element:
Nestfresh Chrysanthemum Flavor – Saffron  100ml: 10g of pure fresh bird's nest, 0.05% chrysanthemum flower, 0.005% saffron pistil, 2.5% honey of natural ingredients.
Nestfresh Red Apple Flavor – Long Label  100ml: 10g pure fresh bird's nest, 80% fresh coconut water, 1.5% rock sugar, 0.5% red apple, 5% longan with natural ingredients.
Nestfresh Fresh Coconut Flavor 100ml: 10g of pure fresh Vietnamese bird's nest, 80% fresh coconut water, 1.5% alum sugar, natural ingredients.
Nestfresh Orange Flavor – Honey 100ml: 10g of pure fresh bird's nest, 2.5% honey, 0.5% orange peel, natural ingredients.
Benefits of using the product:
Improve resistance and nourish blood with the natural sweetness of ingredients.
Rich in vitamin C, helps reduce inflammation
Strengthen resistance, fight fatigue
Improve the digestive system
Provides antioxidant levels, improves sleep and increases natural resistance.
Clear heat, detoxify
Improve eyesight, reduce symptoms of insomnia
Improves digestion and skin
Helps to relax and reduce stress.
Improve health, purify the body.
The sweetness from longan has the effect of nourishing, nourishing blood, sedating, curing neurasthenia, poor sleep, forgetfulness.
Nourish the nervous system, especially those who need to think and focus on mental work.
Nutritional supplements provide vitamins, proteins, calcium and minerals, helping to cool down the body.
Strengthens immune system, improves skin
How to use:   Use directly, shake well before use.
User object:
Children are malnourished and anorexic.
Pregnant women.
Women want to improve their beauty.
Elderly and sick people.
Men need to improve their health and physiology.
Subjects of intense exercise: athletes, danncers,
Recommended time to use:
Should be used in the morning or before going to bed 30 minutes to be able to absorb the maximum nutrients in the bird's nest.
Quantity:  100ml/ 1 jar.
Packing specifications:
In 1 box of the product contains:
4 jars/4 flavors (fresh coconut, orange – honey, chrysanthemum – saffron, red apple – longan)
The remaining 2 jars choose 1 of 4 flavors (fresh coconut, orange – honey, chrysanthemum – saffron, red apple – longan
Each jar 100ml
Origin:   Vietnamese Salanganes'Nest.
Expiry date:  06 months from date of manufacture.
Storage:   Keep refrigerated at 0-50C.